To withdraw your funds go to the Control panel -> My Balance tab and click "Convert":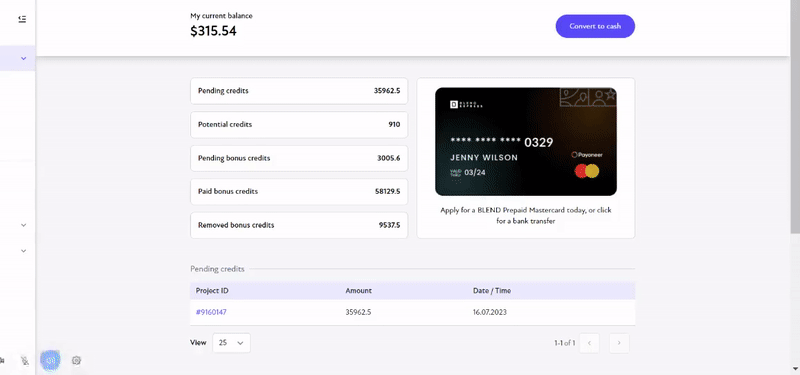 Keep in mind that you should follow the requirements described below:
The minimum amount to withdraw is 2000 credits ($USD 20).
Click the "Convert to Cash" button in your Dashboard.
Select your preferred payment method, the date the withdrawal should take place, and the number of credits to convert. The default payment term is Net30 (i.e. the end of the following month) with no fees. You can also submit a convert request for the following dates: the 10

th

, 20

th

, and

last day

of

each

month

(The early withdrawal fee applies to the requests in the current month only).
Approve your invoice that is created automatically. For Israeli-based linguists, you need to send the invoice manually.
Click "Convert".
Confirm the request by entering your BLEND password.
Funds will be paid on the specified date and the status of the request will be automatically updated on your Dashboard (payment is processed within 48 hours).
A convert request is limited to $(USD) 5,000 per transaction and $(USD) 10,000 per month.
Convert status
You can check the status of your convert request at the bottom of the dashboard page:

pending - the convert request was successfully submitted and it is waiting to be approved;
approved - our Finance team has checked your invoice and approved the payment. Usually, it's done 1-2 days before the transfer date.
processing - only for the Payoneer as a withdrawal method - a payment was sent by our Finance team and it's waiting to be approved by Payoneer. If your convert request was stuck in the processing stage - contact Payoneer support for details.
cleared - the payment was sent and delivered to your selected payment method.
canceled - a convert request was canceled by you. The amount for withdrawal is refunded back to your BLEND account.
hold - a convert request was not approved by our Finance team and we need additional information from you. In this case, check your mailbox for our email with instructions.
failed - a payment failed due to technical reasons. The convert request will disappear from your Dashboard. Contact us and we will check the matter ASAP.