PayPal is a safe and easy-to-use online payment platform. It allows anyone from over 190 countries and regions throughout the world to pay online using their preferred payment method, including credit cards (Visa, MasterCard, and American Express), bank accounts, or existing PayPal account balances.
To check if PayPal is available in your country, visit the Paypal website.
To select PayPal as your payment method, you should be certified and have enough credits for your withdrawal:
Go to My Balance tab.
Click the "Convert" button.

3. Select the amount and date of your withdrawal.
4. Enter your PayPal email address in the relevant field.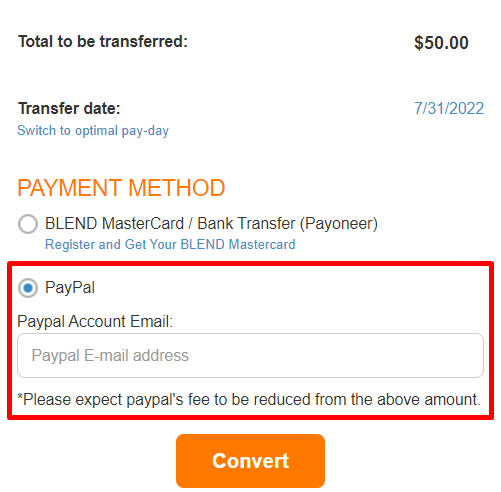 Paypal is an independent online payment system and it's not owned or managed by BLEND. Thus, BLEND doesn't take responsibility for any fees applied by PayPal.