You may have received a credit voucher as part of seasonal promotions or special offers. Be sure to register on our site and subscribe to promotional emails.
To redeem the voucher, simply follow these steps
While submitting a new project via our Translation Wizard:
Enter the project's parameters and click "Review your order".
The voucher field will appear on the checkout page. Enter the promo code and click "Apply":

3. Confirm your order by completing the payment.
If you want to load your account with credits without opening a project:
Start with the Wizard page -> Load my account.
Enter the amount to purchase and click "Reload":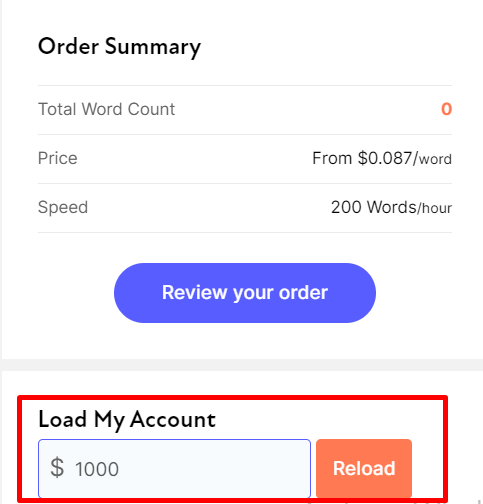 3. You will be redirected to the checkout page with the Promo Code section.
4. Enter the voucher and click "Apply". Check that the bonus appeared on the page before making a payment.

5. Done! Your credit voucher has been applied. You can always check your account balance from the Statement page.
Note: we have promotions tied to $(USD). Please consider the currency exchange rate while applying your voucher code.
The voucher type can vary. It may be either a discount on your new project or extra credits to your balance.
Vouchers provided by third parties are not valid. Voucher codes are sent from the official BLEND site or email only (xxxx@getblend.com).