When you work on a project where the direction of Source and Target languages differs, you may come across a situation when a bidirectional output (segments with different directions in one text) will be required.
If you work in the XTM editor and need to type some text in a direction opposite to the direction of the Target Language, text direction marks will come in handy.
To access the text direction marks in the XTM workbench:
Go to the More menu;
select Insert inline tag or special character (you can also use the Alt+0 shortcut):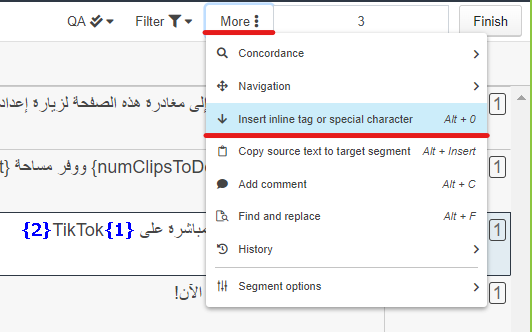 The list of the available text direction marks will appear in the middle part of the menu: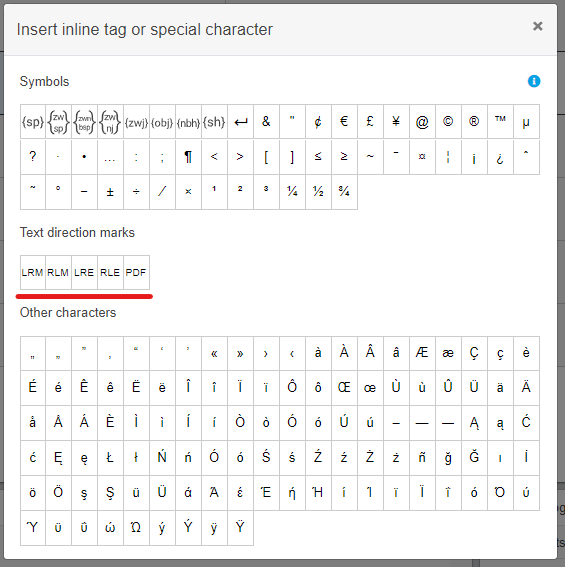 The full name and functions of these marks are as follows:

LRM and LRE change the direction of the text to left-to-right;
RLM and RLE change the direction of the text to right-to-left.
These marks should stand at the beginning of the text you would like to format. PDF is a closing mark for LRE and RLE which shows where the selected formatting ends (without it, the selected formatting will be applied till the end of the paragraph or till the next embedding mark).
Example: Hebrew text had to be switched to the right-to-left direction to match the desired formatting of the target file.
In the workbench:

In the target file: