Credits are how payments are made on the BLEND platform. Each credit has a monetary value depending on the client's home currency. 1 credit = $0.01 USD (when converted to other currencies exchange fees may apply).
The payment for delivered projects is received in credits and it has 3 stages: potential, pending, and earned credits. You can see the status of your credits in your Dashboard -> My Balance tab: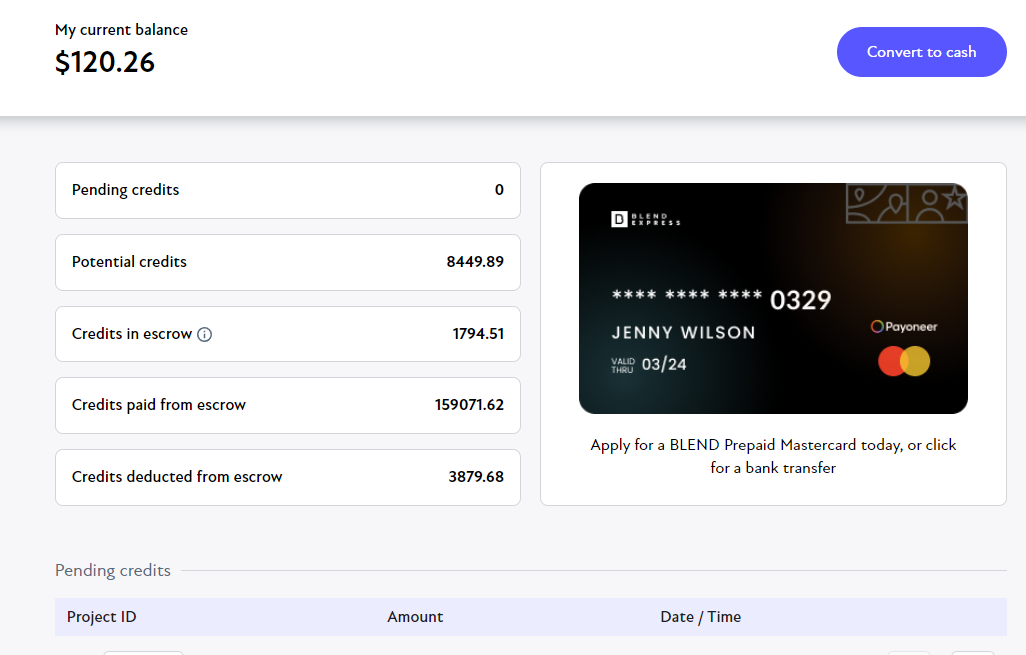 [1]
While the project you worked on is "active",
credits for this project are depicted on your balance
as
Potential credits.
The active project has statuses "In progress", and "Ready". We call it active because, during this time, clients can ask for revisions and communicate with you on the Discussion board.
[2] When the status of a project becomes "Completed", the base credits move to the Pending section.
Note: a project is "completed" 7 days after the translation is uploaded OR after the last comment on the Discussion board. Credits for the dynamic type of projects do not appear in the Pending section.
[3] Base credits become earned = available for withdrawal 72 hours after the project turns "completed". Credits in escrow will become available 30 days after a project is completed.
Note: Credits deducted from escrow - credits that were withdrawn from the project's payment due to the justified quality issue within 30 days from the project completion.
Important: after 24 months of no activity in your profile, the account becomes inactive, and available credits are removed and canceled.