If you have multiple teams in your company working on various projects requiring translations, you may need multiple accounts dedicated to each of the teams or team members. Setting up Primary and Sub accounts may be a great solution to ensure that all your projects on BLEND are organized and monitored properly.

A Primary account allows you to manage settings, balances, and activity of the Sub accounts. One Primary account can have multiple Sub accounts, however, a Sub account can only be linked to one Primary account at a time.
To set up the link between Primary and Sub accounts, you should first make sure that all the required users are registered on BLEND. After that, follow these 3 simple steps:
Log in to the account you would like to

use as

a Primary Account.

Go to

Control Panel

=

>

Update profile

and select

Sub-accounts

.

Under the

Add account

section, please type the email address of the Sub-account, and click the

Add

button: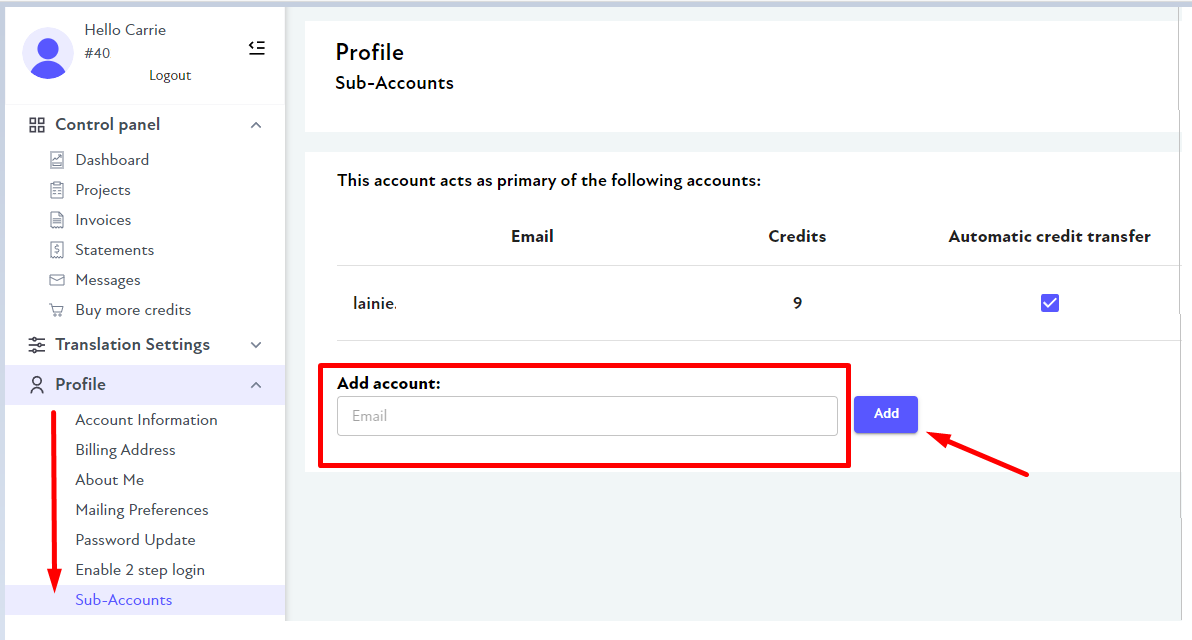 Once Sub accounts have been added, you can set the selected accounts up to use credits of the Primary account. To do it, check the Automatic credits transfer box [1] next to the corresponding account:

Now, any credits used by the Sub will be charged from the Primary account automatically.
As a Primary account, you can also transfer the desired amount of credits to your Sub accounts by filling out the Transfer credits [2] box next to the account of your choice and clicking the Allocate button. The spending of your Sub account will be shown on the Statement page:

'

TXcredit

'

refers to the

transfer

credit action (e.g when a project is opened);

'

RXcredit

' refers to the

receive

credit action

(e.g when a project is cancelled).



Additionally, being a Primary account allows you to gain access to your Sub accounts by switching to the account of your choice. Please contact BLEND Support Team if you would like to have this feature enabled.