Submitting a new translation request is easy using our online Translation Project Wizard (for registered users):
Step 1 – Service type: Select the type of service you need - MTPE Light, Translation, Transcription, Proofreading, or Translation + Editing.
Step 2 – Select languages: Select your source ("from") and target ("to") language(s).
Step 3 – Choose an expert: This is where you select your file's subject matter so that a translator with matching expertise works on your project. If you select "general" for a legal document then a "general" translator will be used and the translation quality will be poor. Selecting the appropriate expertise category ensures the translator is compensated appropriately for their work and that you receive the best translation quality possible.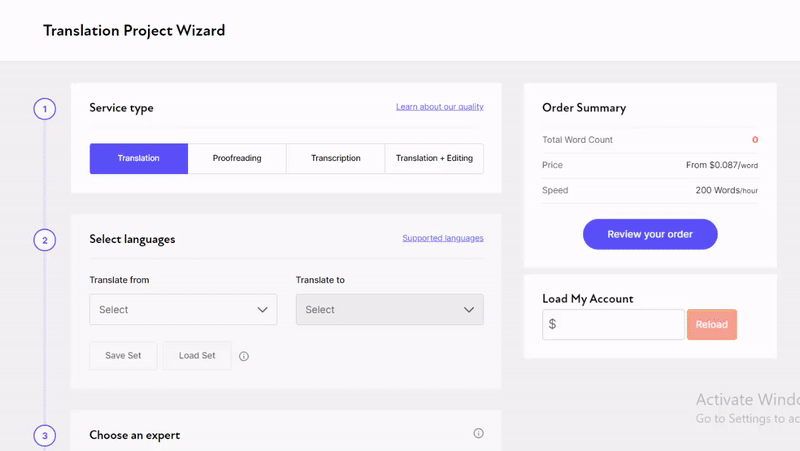 Step 4 – Upload Material: Attach the source file or type the text you wish to translate in the "Type Text" box.
Note: we use an automatic system to count the number of words in all documents.
However, depending on the format of your file and its properties, the automatic word count may be marginally inaccurate.
To assure your project is assessed correctly, you may enter the word count manually (depending you know the accurate number of words).
If you need our assistance to verify the word count, please send it to info@team.getblend.com
Step 5 – Project Brief: Add notes or instructions for the translator on this step.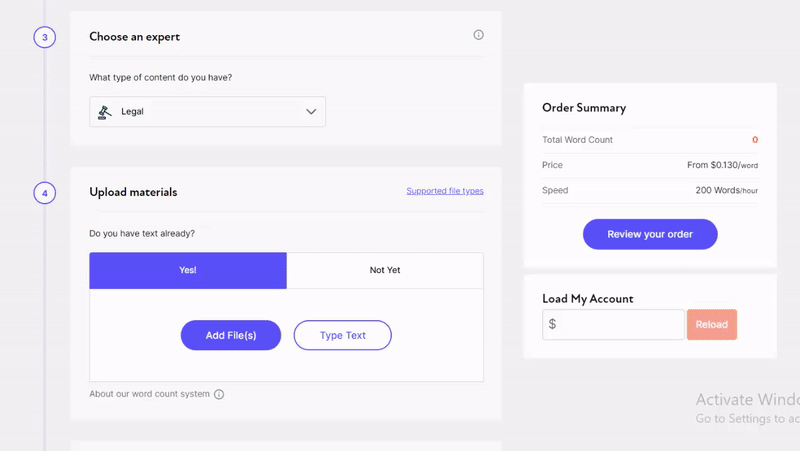 Click "Review Your Order." You can confirm the total cost and submit payment.
You will receive email notifications as the status of your project changes and you can track our progress online.