Build a continuous localization flow combining your Phrase and BLEND accounts.
To get started:
1. Create a translation project in Phrase, set up languages and upload files:

Note: the project you created will be shared with BLEND only. If you want other vendors or in-house reviewers to work on the files, you need to create a duplicate project.
2. Invite BLEND (phrase@getblend.com) as the Administrator of your project: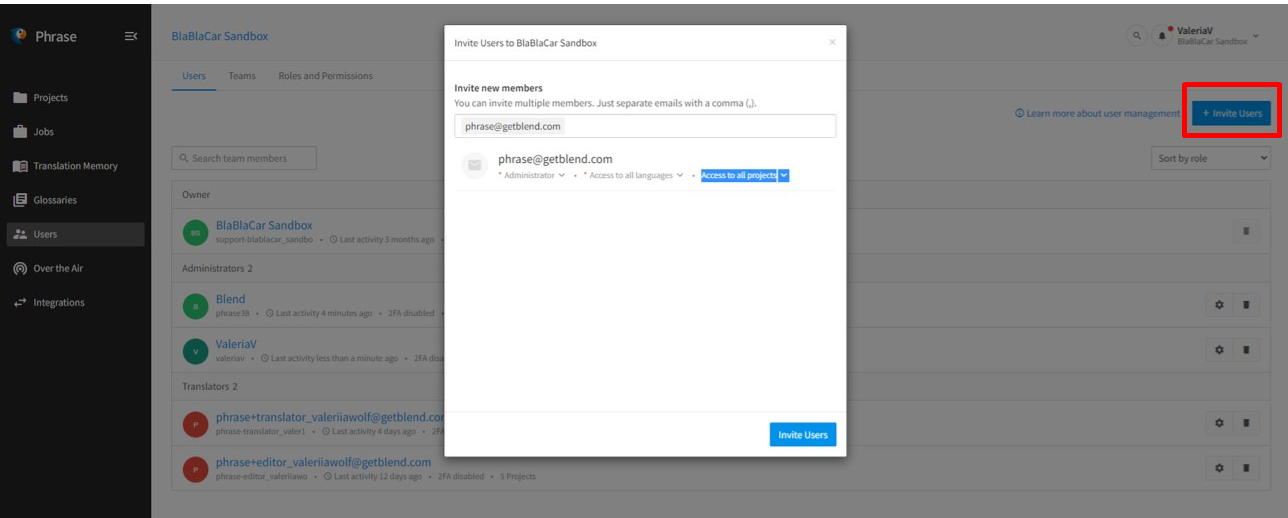 Note that your Phrase Strings subscription plan should have free seats for our linguists to participate:
2 seats - our Administrator and translator (regardless of the amount of language pairs).
3 seats - our Administrator, translator, and reviewer (for Translation + Editing projects).
3. Our project manager will receive the invite, help you to create a BLEND account, and link it with the Phrase platform.
4. Once BLEND and Phrase accounts are connected, the project manager will create a pair of credentials for our linguists (translator + editor) and add them to your project's Contributors team.
Submitting a project
1. From the Project Overview page navigate to the "Jobs" tab and click on "+ New Job":

​
2. Give a name to the job and add a project note in the briefing field. Select the keys (strings) you want to translate and click on "Add selection"​:


3. Click the "Start job" button to push projects to BLEND:

Important: remember to have a sufficient balance on your BLEND account.
4. Receive a perfect translation back directly to your Phrase project:

Book a demo with our dedicated project manager to discuss the pricing details!