At BLEND, we are doing our best to ensure all the projects are submitted on our platform with proper parameters and are allocated to the relevant linguists. Nevertheless, before accepting a new project and starting your work on it, we highly recommend double-checking its parameters and all the available instructions so that you could decide whether you have all the required tools and are able to commit to the completion of the task within the stipulated time.
If you stumble upon a project and notice a significant problem that won't allow you to start the work, you can use the Dismiss button:

When you Dismiss a project, it is important to select a corresponding reason and provide an additional comment if relevant - this will help us understand the matter with the project better, prioritize and address it as soon as possible: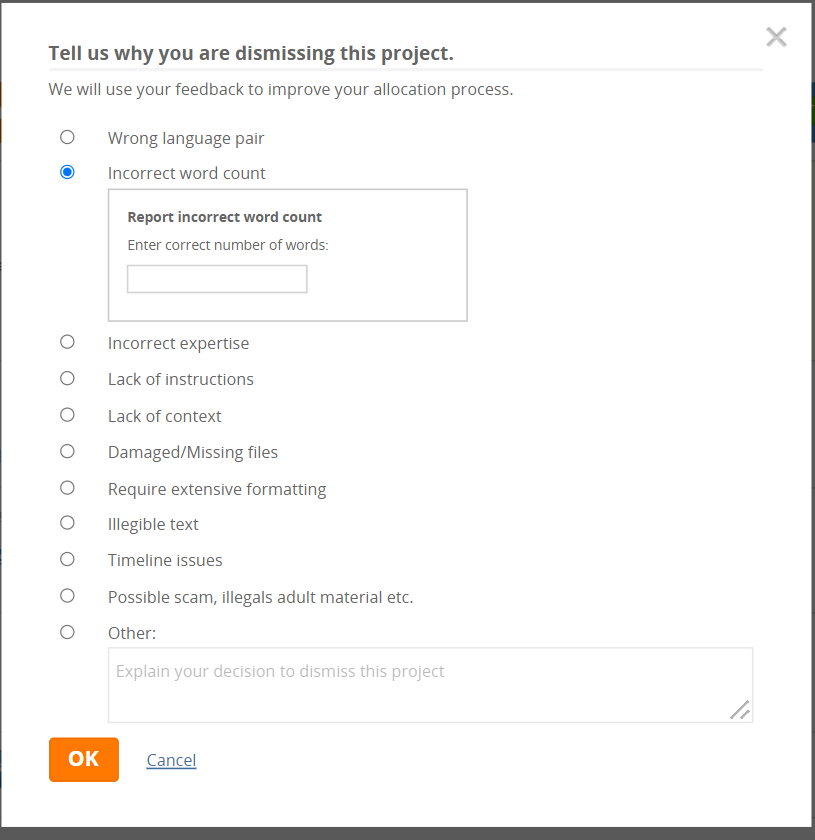 Selecting the correct reason also helps us train the system so that issue resolution could be automated in the future reducing the response time. This may also help prevent some of the issues from reoccurring.
It is worth mentioning that dismissing a project will not remove it from your Open Projects list automatically – you will still be able to see it in the list and access it. This enables you to take the project later when the issue is fixed.
If the task is no longer relevant or should be resubmitted, the project will eventually disappear from your Open Projects.
Dismissing a project before you take it does not leave any negative marks on your profile as opposed to abandoning a project after it has been accepted.