Smartling is one of the CAT tools we use as our workbench. It helps clients to manage their localization projects and distribute work between several language providers.
Starting a project:
To access Smartling, go to www.smartling.com and log in, using the credentials we provide in the Project Brief.
Important! There are separate credentials for the translator and the editor. If you use incorrect credentials, you may not find the relevant job.

Project Brief and the source text also contain the Job name you work on in Smartling:


After you are logged in, head to "Available To Accept" tab and locate the relevant Job:

Check if your language is available by hovering on the Progress scale [1] and click Accept [2]:

The job will be moved to the Current Work tab and the Open editor button will appear:

Important: it's ok if there are several jobs in the Current work tab. You need to work only on the Job mentioned in the Project brief.
Working in the editor
The Editor navigation is pretty intuitive.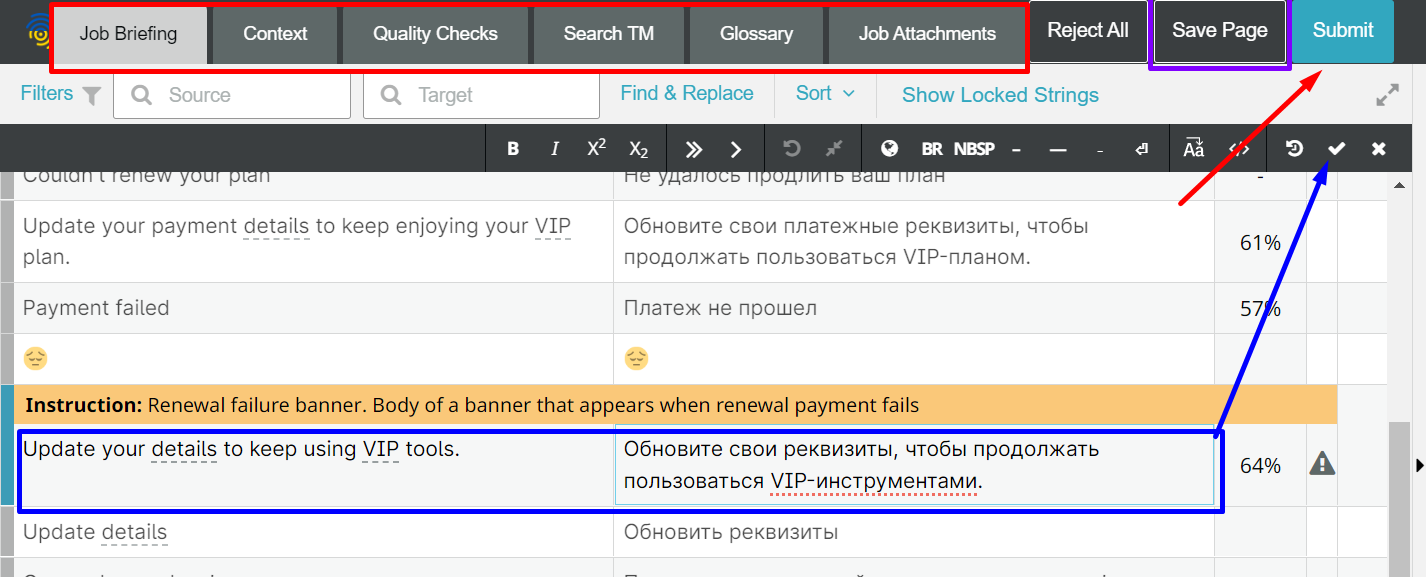 [1] On top of it, you may find useful tabs, where all the needed information about the job is situated: for example, Job Briefing, Context, Glossary, etc.
[2] On the bottom is the list of the strings that you will work on. After you insert and reproof your translation, remember to save your translation, by clicking on the "checkmark". An easier way to save your translation is to click on Save Page button. By clicking it, you will save all translations on the current page of the editor. The bulk save functionality saves the strings for the page you're currently on. Each page has a limit of 100 strings. It is recommended that you click Save Page on each page of strings you translate and also before submitting.
[3] Click Submit to submit the translations to the next step in the workflow. Choose to submit the number of saved translations in this Job (recommended after you click Save Page), saved translations on the current page, or translated strings on this page. This action cannot be undone.
Finish the job on the Project Page
After you submit the job in Smartling, go back to the project page and type "done" in the target text box to declare the project as completed: