The Response Rate parameter on your Performance Board shows the overall percentage of the TBT and DB messages that were replied to (or reacted to) by you in a timely manner in the current Performance Board cycle. It is a great tool that promotes faster responses to both the Clients and the Support Team, which creates a better user experience and gives an edge to the more present translators.

At the beginning of a new cycle, the Response Rate is set to 100%. The more messages you leave without a reply, the lower the percentage will get. However, the parameter may change throughout the cycle depending on the total number of messages you receive.
Once a message is posted on TBT or DB:
a yellow star appears on your Dashboard next to your Response Rate parameter. If you see it, please be sure to click it to see the list of projects where your reaction is required and take the corresponding action*:
you have

16 hours

to reply or react to it – the 16-hour timeframe has been selected as it covers all time zones and gives all our translators enough time to reply and/or close any ongoing conversations.

if you haven't replied within

16 hours

, the

yellow star disappears

(

the corresponding project is removed from the list

), and your Response Rate percentage reduces accordingly.
While the yellow star is one of the most reliable tools, you may also track new messages on your projects by checking your internal BLEND messages and email notifications.
You can close the conversation by:
1) Replying to the message or 2) clicking the Thumbs-up button or 3) using confirmation templates: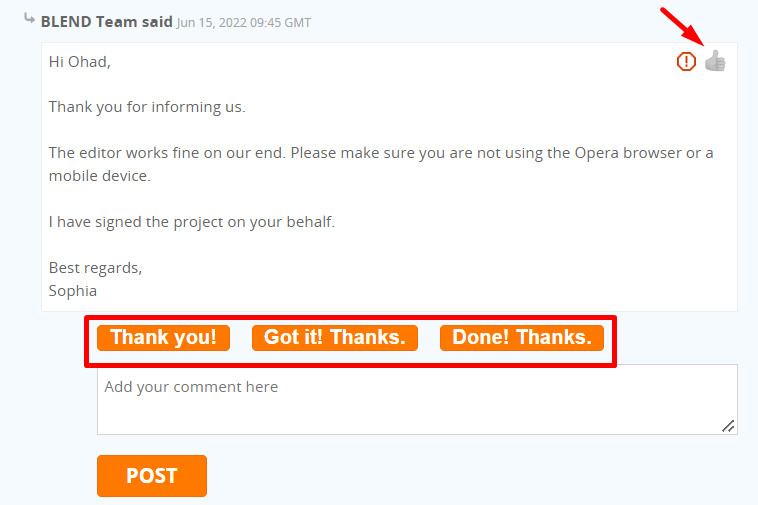 This way, we will know that the message was checked, and your Response Rate will not be affected.
Messages marked with a green sign show that the message does not require a reply. Such messages do not enable the Thumbs-up button and you don't have to post a reply to maintain your Response Rate: