Professional conduct parameter along with the number of warnings on your Dashboard reflect how professional your performance on the platform and communication with clients, your colleagues, and the BLEND Team are.
Breaching our Terms of Service and/or our Code of Conduct will lead to corresponding records on your profile and will influence your translator level advancement: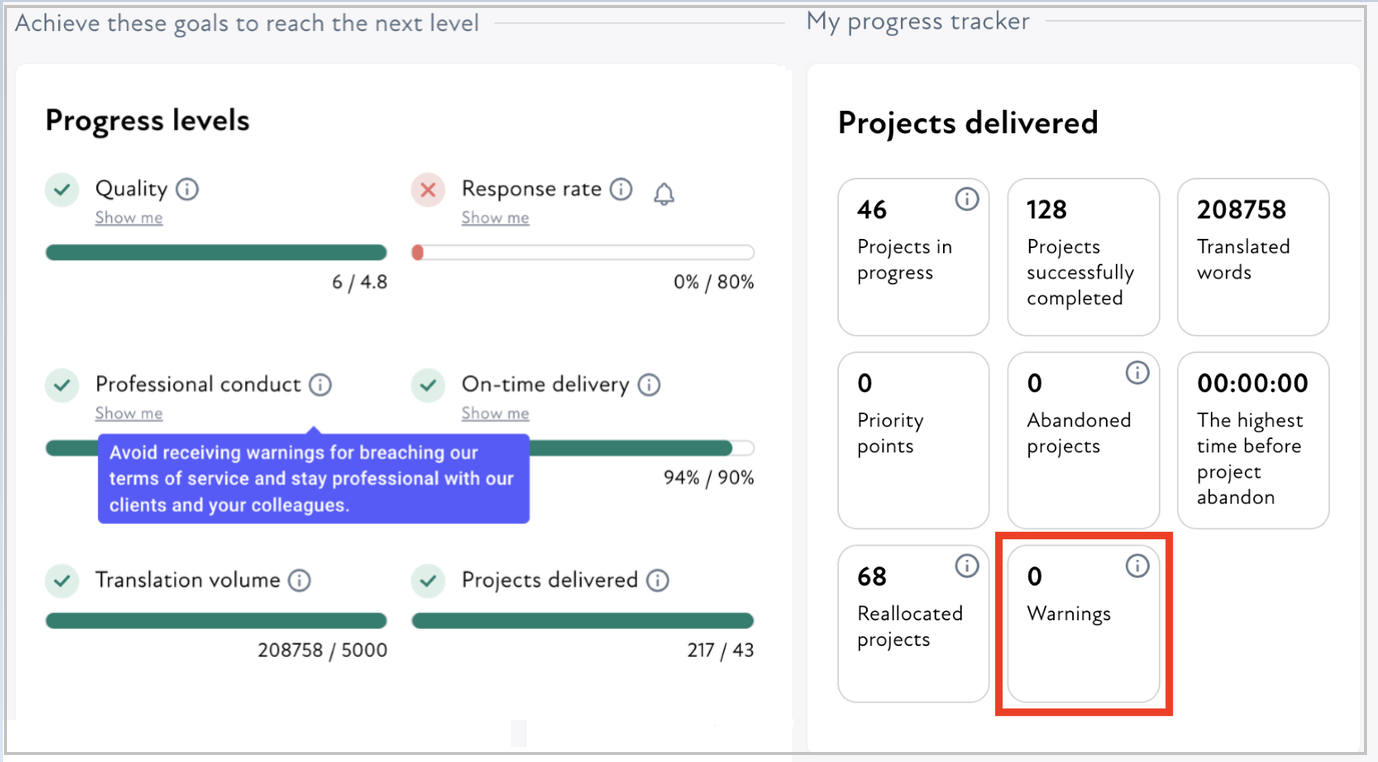 Receiving 1 official warning in a course of 30 days will prevent you from moving a level up (while you will still keep your current level). Getting multiple warnings will give grounds for BLEND to consider if further cooperation with the translator is possible.
Similarly, if you fail to meet your Professional Conduct parameter goal due to your performance on projects, not only you can't move up a level but you also risk losing your current translator level.
Below, you can find the list of actions that can lead to a negative record:
Sharing your personal details while communicating with clients and/or offering them direct cooperation beyond the platform

Approaching clients directly regarding business-related questions (

such as payment/pricing/marketing etc.)

Communicating with clients, your colleagues, and BLEND Team representatives in a disrespectful unprofessional manner

Inappropriate usage of communication channels with clients or BLEND Team (

s

ending multiple unnecessary messages on the Translators-BLEND Talk, General Discussion board, email; unnecessary usage of the 'Urgent' mark on the TBT, etc.

)

Uploading unprofessional profile pictures and/or adding inappropriate content to the 'About me' section on your profile.

Submitting incomplete work (

uploading empty/incomplete files or unedited Source Files as Target Files and signing the project). Exception:

it was caused by a reported technical issue.

Delaying projects on a regular basis without any valid reasons.

Inappropriate account usage (

creating and using duplicate accounts; using shared BLEND accounts to actively work on the platform).

Outsourcing.

Withholding information about serious issues on projects from the BLEND Team (

such as violation of our policies by clients in terms of direct cooperation or inappropriate content for translation, duplicated projects, empty source files, etc.

).
In case any of the actions listed above are revealed by clients or the BLEND Team, a corresponding record will be applied to your profile resulting in a reduction of your Professional conduct score and/or an increase in the number of official warnings on your Dashboard (depending on the severity of the matter).
At the same time, you can improve your Professional conduct score if you demonstrate exceptional professionalism on your projects by being helpful to the client/BLEND Team, going the extra mile to complete the task, or reporting serious issues on projects (such as violation of Terms and Conditions by clients, submission of inappropriate content, etc.)